5 summer season holidays skin care to keep away from sins
You, like me, are probably looking forward to going on a summer vacation soon!
When I have downtime with a good book and have fun with family and friends, I always make sure that my skin care system does not slip.
Leaving your skin care on the asphalt while spraying is particularly problematic for sensitive skin types who have to fight against additional irritating factors such as sun, sea and sand.
So here are my top 5 sins for vacation skin care that you should avoid this summer …
1. In-flight dehydration
The circulating, dry, and filtered air in airplanes can dry out severely and affect your skin for days if you don't take the right steps.
Once you get on the plane – drink like a fish (water!) To replace the essential moisture that is lost while in the air.
I always have my Geranium & Thistle Rebalancing Day Cream and the BioAffinity Skin Tonic from Lotus & Orange Blossom in my hand luggage to apply and spray again throughout the flight.
The travel sizes in our Anywhere Essentials collections are perfect for that!
2. Using facial tissues
They may be practical, but facial tissues are a no-no for all skin types, especially if you are on the sensitive side.
My advice is to stay away from them and to spend a minute or two every day of your vacation cleaning your skin with a detergent and an alcohol-free cream cleaner. The extra food and hydration also lengthens the tan and does much less damage to the planet – so it's a win!
3. Change skin care
We were all there – you arrive at the airport and find that you forgot to pack all your toiletries.
Grasping miniatures is not particularly suitable for difficult skin, as chopping and changing products can really upset your skin.
Again – another reason our Anywhere Essentials collections are a savior when you're on the go.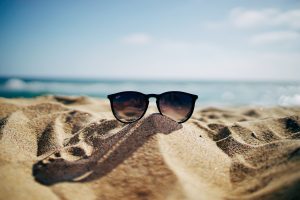 4. Exaggerate in the sun
Coloring lobster red on your first day of vacation is not fun for anyone and is seriously harmful to your skin.
I like sticking to mineral sunscreen to avoid worrying about nanoparticles that you can read more about here, and I always wear a hat to protect the more sensitive skin on my face.
5. Forget about aftercare
Aftercare is just as important as sun protection (find out why here). At this stage, your bronzed skin becomes soft, smooth and radiant.
Comfrey & Calendula Calming Body Cream and Rosehip BioRegenerate Oil are my saviors at sunset.
Add a drop or two of oil to the cream and massage it into the skin for immediate relief and long-lasting hydration.
Have a good trip!